The 5D-II/P is LILLIPUT's newest field monitor. It is a portable monitor that is a perfect solution for video professionals shooting outdoors or in bright lighting conditions. It is just with HDMI in and HDMI out(optional function) , it is perfect to work with 5D-II digital camera. But it is also suitable for other camera which is with HDMI output. It is

updated version

of 5D-II, it is with with optional functions:False color,peaking filter,exposure, histogram.

F1-F4, 4 user-definable buttons, default function:
F1: False Colors
F2: Peaking Filter
F3: Exposure
F4: Histogram

Functions of F1-F4 buttons can also be customized:

False Color Peaking Filter
Histogram Exprosure
5D-II Camera Center Marker
Pixel-to-Pixel Color Bar
Screen Marker Aspect Ratio
Check Field Underscan/Overscan
Freeze Input H/V Delay
8 xZoom Image Flip
Specifications︰
Panel Size: 7" TFT LCD (16: 9)
Resolution: 1024× 600, up to 1920× 1080
Brightness: 250CD/m²
Contrast: 800: 1
Viewing Angle: 160° / 150° (H/V)
Input Voltage: DC 6-24V
Input Signal: HDMI
Output Signal: HDMI (optional)
DV Battery: F970/DU21/QM91D (optional)
Battery Plate: F970, DU21/QM91D (optional)
Current: 800mA
Power Consumption: 10W
Working Temperature: -20º C ~ 60º C
Storage Temperature: -30º C ~ 70º C
Size (LWD): 196.5× 145× 31mm
196.5× 145× 41mm (with sun shade closed)
196.5× 145× 151.3mm (with sunshade open)

Accessories:
1. Flexible Folding Sun Shade Cover: 1piece
2. Battery Plate (F970): 1piece
3. DC Adapter: 1piece
4. HDMI to mini HDMI Cable: 1piece
5. Shoe Mount (for camera only): 1piece
6. Manual: 1copy
7. Battery Plate (DU21/QM91D) (optional): 2pieces
8. DV Battery F970/DU21/QM91D (optional): 1piece
Advantages︰
The 5D-II/P is the updated version of 5D-II, it is with the optional functions:FALSE COLOR , PEAKING Filters, Brightness Histogram, Exposure.


This 7" monitor also offers standard features including a wide variety of formats and markers, 4 user-configurable front panel function buttons, RGB Check Field,center marker, 8X Zoom, PIX to PIX, Color Bar,5D-II camera, H/V delay, Aspect Ratio, underscan/overscan, 4-pin XLR power jack,etc.

This unit also offer the ability to adapt up to three different battery configurations for providing mobile operation in the field. This option provides flexibility when using different cameras or configurations.
Product Image

Camera Monitor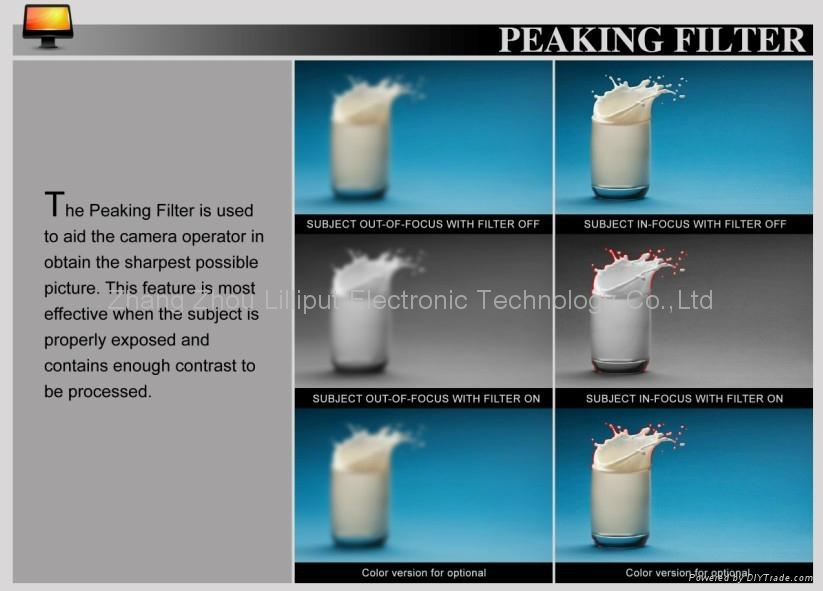 Camera Monitor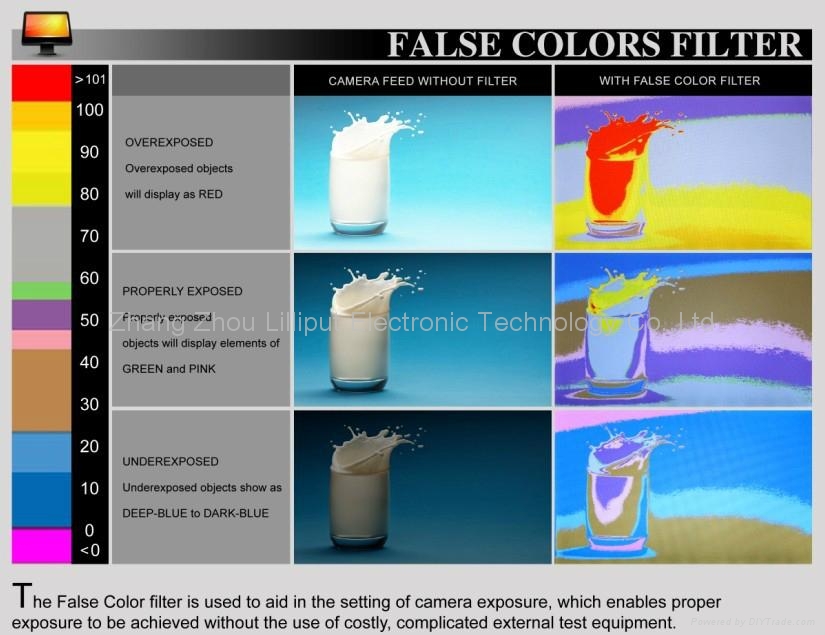 lcd monitor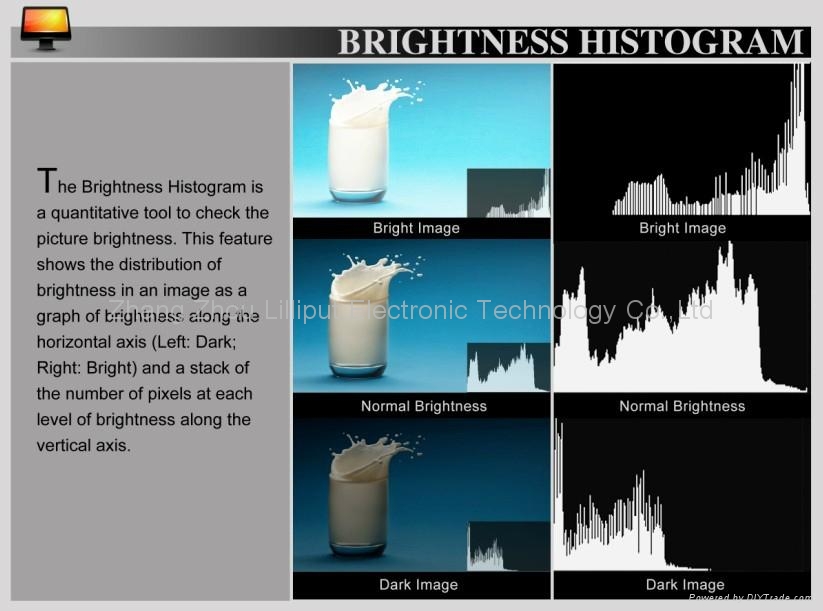 broadcast monitor


lcd monitor